Do you have favourite activities you like to do with your children? Click on the picture below to watch my short video about my favourite thing to do with my little ones!
Pinterest
I came across the above pic on Pinterest (find me @ Blog Loving Mummy if you'd like to see my pin boards)! I could spend hours on there discovering all sort of things from baby & toddler activities to beautiful landscapes, and work from home tips to inspirational quotes. Plus many many more points of interest!
Favourite Activities
My favourite days with my two little munchkins are spent down the beach. We go to this coffee shop on the seafront with a little children's play area and sandpit which my toddler loves! He could spend hours playing with his toys in that sandpit! My little girl is only a few months old so she's either asleep in the buggy or I'm cuddling her while watching my baby boy play.
Apart from the cost of a mocha, an ice cream for Tommy and perhaps a yummy slice of cake for me, it's FREE! So it shows you don't need to spend a lot of money to have fun with your kids!
Top Ideas For Activities To Do With Your Children
Here's a few of my ideas for baby and toddler activities you can do for free or at a small cost:
Cutting & pasting tissue paper and anything else you can stick to paper!
Bake cakes
Go to the park
Play-Doh
Splashpool/swimming
Arts & crafts (Wilko and even Poundworld are great for crafty stuff including glitter!!)
Pottery painting (there's this great little shop in Southsea near me where you can pick ready made items to paint. Then 10 days later after being glazed & put in kiln you collect them. We've done it for daddy's Valentines & birthday presents!) Have a look where your closest pottery shop is. The one in Southsea is called 'Arty Potz'.
Crazy golf
Go to the beach (if you live near one of course!)
Museums
Local places of interest such as castles
Kids club cinema
Football in the park/open space/garden
Picnic
Kite flying
Go to garden centre & buy seeds for flowers & veg to plant
Make sensory toys such as rice in a clear tube, put unravelled wool in a big bowl, attach different feely things to a board
Buy sparkly material from fabric shop
Play with own toys & puzzles
Go to the sensory room at your local children's centre
Go to the library
Colouring & painting
Bubbles
Make a tent out of the duvet
Play hide & seek
Ball/Catch
These are just a few things and there are so many more! Take a look on Pinterest for more top ideas!
Sassy Bloom
Before I go I thought I'd see if you've heard of the amazing site called Sassy Bloom? It's a brilliant idea for baby and toddler gifts for friends, family and even yourself! Have a look at their website to see what sorts of gifts they include in their special boxes! You get £5 off your first box with link below!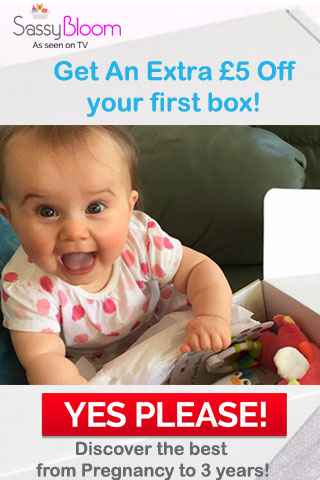 Have a wonderful time with your precious little ones and let me know if you have any top activity ideas that I've not mentioned!
Bye for now!
Lisa x
p.s. Please do follow me on social media by searching for Blog Loving Mummy! I'm on Facebook, Pinterest, Instagram and Twitter!